Homeless For the Holidays
Dear Friend,

For the past 12 years, I have delivered gifts to our housing sites across New York City on Christmas Eve. Each year we put together gifts for our housed clients as well as our street homeless youth. Our housed youths (those living at one of our housing sites) typically receive retail gift cards, games, treats, and some clothes, while our street homeless youth receive blankets, gloves, scarves, hand warmers, gift cards for meals, and other items to survive the streets, the brutal cold, and help them feel a sense of the holiday. This takes weeks of planning each year, and since we first started this tradition, it has grown to include dozens of volunteers, donations from a number of our community partners, businesses, and donors, and even shopping sprees made possible by two generous friends and donors, Ian and Craig.

This year was very different, as the recent Omicron outbreak has been especially challenging at AFC. We have nearly 50 staff members out sick with COVID and a growing list of over 25 residents in isolation hotels. I, too, am one of those who contracted COVID, and for the first time in 12 years, my holiday tradition of preparing and delivering gifts across the city was thwarted. Mercifully, the majority of us had mild symptoms and a quick recovery.

During my isolation, I've been reflecting on this tradition and the importance of making these gifts special. The holiday season is devastating for our clients—it's a time to come together and be with family, to share in holiday cheer and meals, and be showered with love and gifts. For our kids, it's a reminder that they are not welcome at home or deserving of love or joy because they are lesbian, gay, bisexual, or transgender.

Studies of LGBTQ+ youth suicide tell us that one affirming adult in a young person's life can reduce suicidal ideation by 40%. We also know that youth who are affirmed in their identities—regardless of homelessness—feel better about themselves and thrive. Each gift we pack is a message of care, a moment of normalcy, and a prayer that these young people will see how much they truly are valued, worthy, and loved.

As we move into 2022 we are facing a $400,000 decrease in donations. An anonymous donor will match all donations to AFC, dollar for dollar, through the end of the year up to $75,000. Please help us bridge this gap so that we may continue to offer the level of services and care our youths need.

Thank you for your care and support of the important work we do, and above all, for showing our youths that there are people in the world who care for them—in spite of what they've been made to believe by their parents.

With gratitude,
Alexander Roque
President & Executive Director
Derrick, 17
---
Derrick knew from a very young age that he was different. His brother's would sometimes pick on him because of how he spoke or how he walked but Derrick says it didn't really bother him. Things changed when Derrick's mom's boyfriend moved in with them. Within a matter of weeks, he was abusing Derrick, telling him to "man up." If Derrick would cry, he would punch Derrick and tell him to stop crying like a girl. Derrick's mother did nothing to protect him. After months of this, Derrick's mother offered him the option to move in with his aunt. Derrick was heartbroken that his mother would ask him to move but was desperate to escape his home. He soon found his aunt's desire to take him in was to "heal him." She was a religious woman who preached that homosexuality is a sin. Derrick was subject to daily scripture readings, prayers, and the "casting of evil from his body" forced onto him by his aunt. Derrick ultimately ran away to the streets where he felt he could be himself and not be subject to abuse. On the streets, Derrick found other kids like him. He remembers his first holidays on the streets realizing that he has a family but his family chooses not to care for him because of his identity. Fortunately, Derrick wasn't homeless too long before he was connected to AFC through our outreach team. Our outreach team works to provide support, on the streets, for homeless LGBTQ youth. We build trust over time and encourage youth to come in for services and housing. Derrick is doing well, healing from the abuse he experienced, and has plans to attend college after completing high school. He says he doesn't feel angry at his mom, he's just sad that she won't care for him. He hopes one day he can reconnect with her. We're here with Derrick supporting him, and affirming for him that there's nothing wrong with who he is.
---
Samantha, 17
---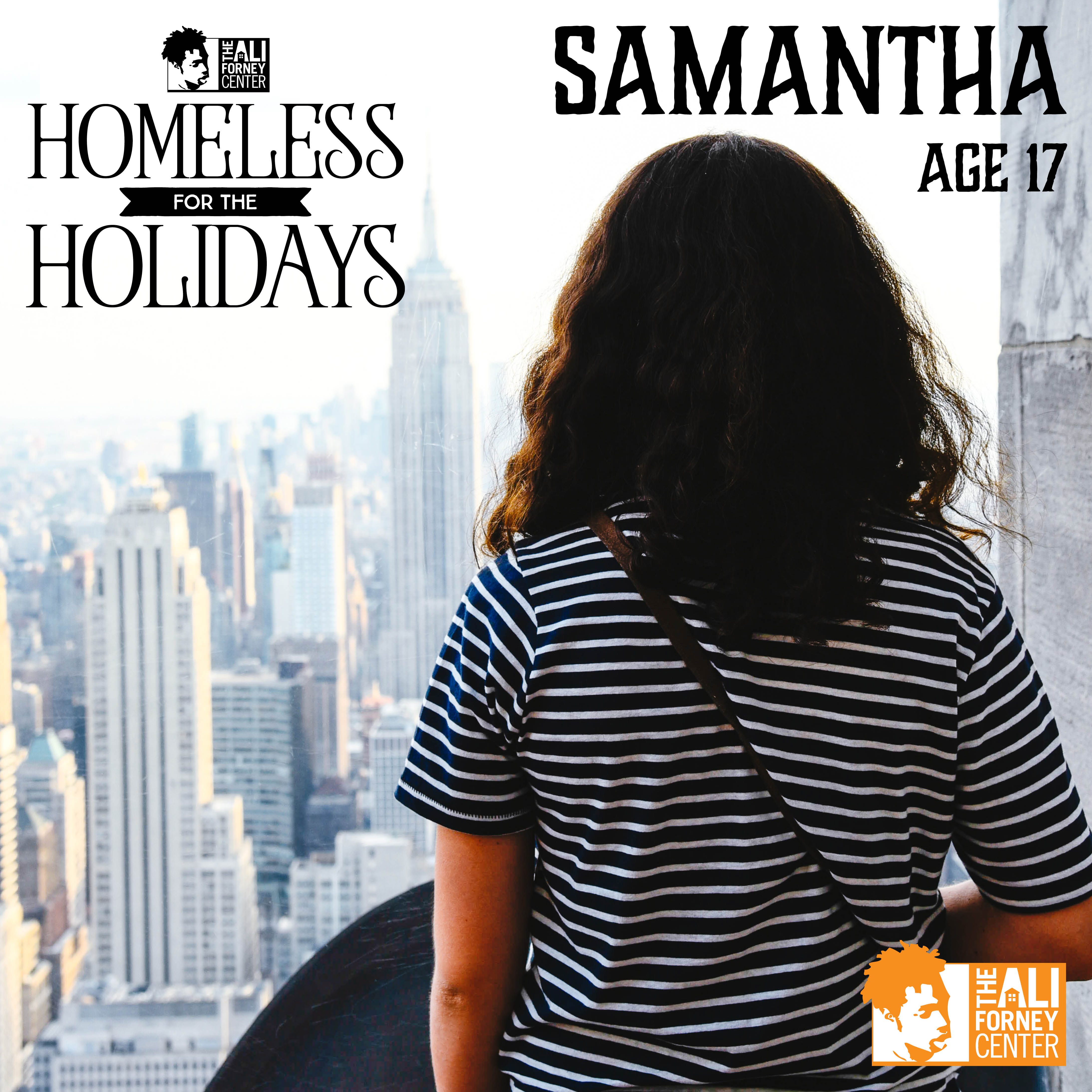 Samantha was placed in the foster care system at the age of 5 when her mother died. For her entire life she remembers feeling like she didn't belong and that her body didn't match how she felt inside. When she was asked to line up with the boys, she would line up with girls. When shopping she yearned to purchase dresses and make-up but her foster parents told her those were not meant for boys. They would break out in fits of rage whenever she would express her true self. She remembers being in the second grade and being sent home because she insisted on her female identity. When her foster father came home from work, he beat her, punished her, and threatened to kick her out of her home if she expressed herself as a female ever again. She was 7 years old. She began to withdraw and hide her identity – but not without the cost of being traumatized, living in fear, and outright hating herself. Like many young people in the foster care system, Samantha did not have adequate care or support. Gender identity develops at much younger ages than sexual orientation. Transgender young people experience higher incidences of trauma, depression, anxiety, and sadly suicidal ideation for living in un-affirming/transphobic households. No child should be subject to being denied who they are – and families must understand the dangers of such parenting. Samantha ultimately ran away from the foster care system, her foster parents, and from a life that denied her the right to be who she is. She went through a lot on the streets, but through it all, she recalls feelings of relief living her true identity. She remembers her first holiday on the streets, asking for money and food, and as lonely as she felt, she still felt at peace. Part of her struggle included accessing gender-affirming care like hormone therapy. Samantha learned about us through a community health clinic that referred her and within days of arriving at our Drop-In Center she was placed in our transgender housing program and set up for gender-affirming care at our onsite medical clinic. Today she is thriving and healing. She wonders if her life would have been different if her mother hadn't died or she was accepted for who she truly is. However, she is grateful for the support and care she receives from AFC's programs, including her housing site run by transgender individuals, just like herself. Seeking gender-affirming medical treatment for transgender young people is not child abuse, transphobia is.


---
Joey, 17
---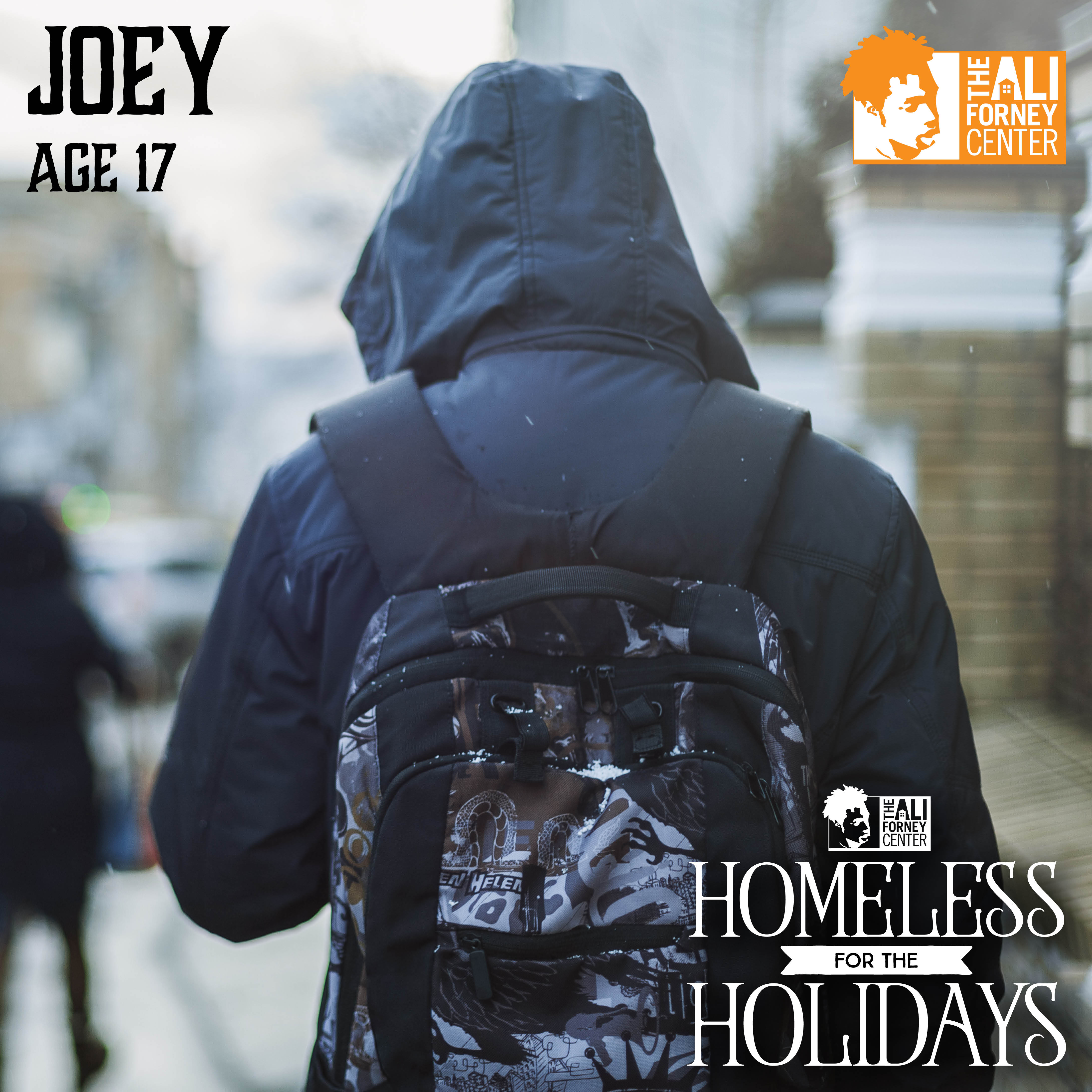 At 17 Joey had been through a lot. After being removed from his home due to abuse and neglect, he stayed with relatives until ultimately being place in the foster care system. In school he sought care and attention from his teachers, something he wasn't getting anywhere else.
He remembers his first crush -- another boy in his class. He knew that he would be mocked if he told anyone, but the other boys at school took notice and started picking on him. Joey was called names and largely targeted in school causing him to isolate.
After being spit on and punched in the face by a classmate, he turned to his foster parents for support, but they too turned their backs on him. Joey started failing in school and became withdrawn from the world. He would cry himself to sleep, praying not to wake up. He was depressed, anxious, and had been contemplating suicide.
Bullying, lack of affirmation and support in the home, and homophobia have detrimental effects on young people. LGBTQ+ youth are more likely to fail academically and experience mental health issues related to bullying and homophobia. In fact, 80% of LGBTQ+ youth report skipping school or withdrawing in class because of bullying and homophobia.
Joey ran away from his foster home and it was unnoticed by the system. He lived on the streets where he found other LGBTQ+ young people like him. Many young people find community and refuge on the streets because it feels safer than the systems that are supposed to protect them.
Joey was connected to AFC through our street outreach team which works to find homeless LGBTQ+ youth and connect them to housing and services. Within three months of being in our care, Joey started to feel better about himself. He re-enrolled in school this September and is stabilizing. He lives in our transitional housing program and we're helping him with his plans to go to college next year. Joey doesn't think much about what he's been through, but he does worry about the many others who haven't been quite as fortunate.
---
Wendy, 19
---
Wendy, 19 Wendy grew up in a conservative household with parents who went to church weekly. She was raised attending Sunday school surrounded by a community of love. As she got older Wendy realized she was gay, and though her parents never really spoke about LGBTQ+ people at home, she deeply feared rejection. Around the time she reached middle school Wendy found the courage to come out to her friends and ultimately her family. She was met with shock and hate by her parents, and though Wendy was not surprised, she was devastated. Immediately after coming out, her parents started railing against LGBTQ+ people in the home and how a gay life is a life of sin, all while forcing her to pray on her knees that God would heal and absolve her. They held a prayer circle for her at church where the adults she had grown up with stood over her, shouting condemnations of the LGBTQ+ community, planting a seed of self doubt in Wendy that rapidly grew and festered into a crippling feeling of worthlessness. People at church whispered in front of her, and her friends no longer played with her. At school Wendy became withdrawn. She caved to the pressures and denounced her identity, trying desperately to be like the other girls. Her self doubt had turned into self hatred, and she started hurting herself and using drugs to numb her new reality. Religious rejection of LGBTQ+ youth is a crisis. LGBTQ+ youths who lack affirmation in their identities have higher rates of mental health issues including anxiety, depression, and suicidal ideation. In fact, just one affirming adult in a young person's life can decrease suicidal ideation by 40%. Wendy hit her breaking point as she approached high school graduation, and on the night of her 18th birthday, she ran away from home. She could no longer deal with the religious abuse, rejection, and hate. She drove to NYC where she slept in her car and looked for work. She found AFC during her search for shelter and care, and remembers how grateful and relieved she was to find a space where she could be herself. She is now 19 and started college this fall. Wendy currently lives in our Transitional Living Program and we are so happy to be able to provide the care and unconditional love and support she needs and deserves.

---
Ronny, 16
---
When Ronny was 12 years old he wrote a note to another boy he had a crush on. Overcome with nerves, Ronny didn't have the courage to give the note to the boy, so he left it in his pocket. This innocent note—a normal part of coming of age and a token of young love—changed Ronny's life forever. His mother found the note and flew into a fit of rage, her homophobia exploding in the face of a stunned preteen boy. His father, a religious leader in the community, arranged immediately for Ronny to begin conversation therapy. In this so-called therapy, Ronny was forced to denounce his identity—he was shown images of gay men dying, made to pray for his salvation, and made to believe that "the devil" was within him. Ronny spent four years in conversion therapy, and he attempted suicide twice. Each attempt only enraged his parents further and with each attempt they fought harder in their war against his identity. Ronny found his escape in daydreaming of running away from home. This spring at the end of the school year, his parents told him they would be sending him away to a conversation therapy camp to fully "cure him." Ronny panicked. He knew the psychological torture that awaited him at the camp, so early the following morning before his parents were up, Ronny's daydreaming turned into reality and he ran away from home. 90% of the homeless youth we see every year run away or are forced out of their homes due to their parents' religious beliefs that are rooted in homophobia and transphobia. We work within the community to help religious leaders understand the harm that homophobic and transphobic teachings have on our youth. Everyone deserves to be loved. Fortunately, Ronny found us on the internet and knew where to run away to. Not everyone is so lucky. Ronny is in school this year, doing very well, and is working through the trauma of the four years since he wrote that letter. He often thinks about what his life would have been like if he hadn't been outed in this way. We're helping him work through this painful experience and we'll be there for his graduation next year.


---
Cora, 17
---
Cora's family moved from South America when she was 6 years old. Cora was born male but from a young age felt she was born into the wrong body. Behind closed doors, Cora would wear her mother's dresses, makeup, and jewelry. One day when she was 12, Cora's mother caught her wearing a dress and makeup. Her mother beat her, telling her that if she ever dressed as a woman again she would be thrown out of the home. Cora lived in fear knowing that her mother did not accept her. In the years following this incident, Cora's mom subjected her to daily abuse and demanded that she "act like a man." Knowing her mother's resentment, Cora ran away from home and took to living in the streets of the Bronx where other homeless women of transgender experience survive by engaging in sex work. Cora reluctantly sold her body in exchange for food, shelter, and money. Almost a year after being homeless Cora learned about the Ali Forney Center through one of our outreach workers. She was given a bed in our emergency housing shelter and was connected to our career and educational readiness program, where she earned a National Work Readiness credential and built her resume at her service-learning project and video editing internship. Cora discovered her acting ability and visual arts talents, and learned important professional skills. With the help of our legal team, Cora now has her Permanent Resident Card and is employed at a local organic market.
---
---